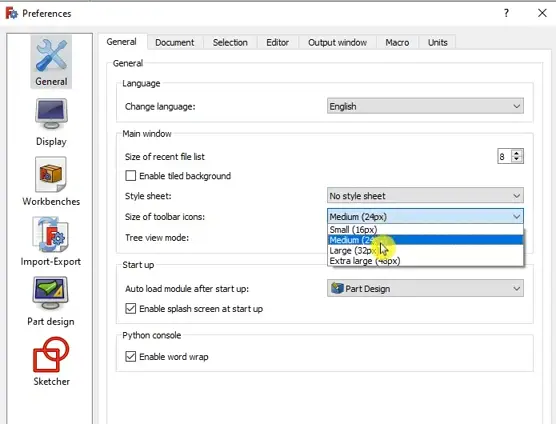 Hello friends welcome to FreeCAD tutorial in our previous tutorial we have learned How to Set Default Workbench in FreeCAD. In this tutorial we will learn how to Change Icon Size in FreeCAD.
One of the things that makes FreeCAD so versatile is its ability to customize the user interface. For example, you can change the icon size to make it easier to see and use.
Follow the step by step guide shown in the below video to Change Icon Size in FreeCAD. key points of below are as follow.
Tutorial on changing icon size in FreeCAD by Mechnexus on YouTube.

Tutorial explains how to adjust icon size for visibility issues.

Instructions: Click on "Edit," go to "Preferences," find "Size of Toolbar Icons" under journal settings.

Icon sizes can be set as small (16 px), medium (24 px), large (32 px), or extra-large.

Recommended icon size is medium (24 px), preferences depend on user's needs.
"Thank you for reading! If you found this article insightful and valuable, consider sharing it with your friends and followers on social media. Your share can help others discover this content too. Let's spread knowledge together. Your support is greatly appreciated!"